About Us
Dean Dalton Tours is a small, independent, husband-and-wife company, dealing exclusively in cultural tourism, mostly to Europe where our tours have ranged from England, France, Germany, Italy, etc. to more exotic places as far east as Romania, Bulgaria, and Ukraine, and northward to Poland, Russia, and the Baltics. Our aim is to provide, at a moderate price, intellectually stimulating tours that offer the kind of exclusive, personalized service, fine dining, and attractive accommodations usually associated with "luxury" travel.
Classical music, opera, and ballet performances are a major component of all our tours and our sightseeing activities stress the art, architecture, culture, and history of the places we visit. Instead of using standard tour guides, we seek out specialists in history, art, or architecture to be commentators for our sightseeing activities; often college professors and PhDs, they always possess a full command of English. We personally escort and manage all our groups. Dean's training in music and career in arts journalism allow him to provide in-depth background of the performances included in each package while Zsofi's broad education and knowledge of multiple languages are valuable assets.
Although Dean Dalton Tours, LLC, was incorporated in 2010, we have been working together since before our marriage in 2006 and Dean has planned, managed, and escorted nearly 50 cultural tours since 1994. Most have been sponsored by KUHF-FM, Houston Public Radio, but we have also created, marketed, and managed tours for the Houston Ballet, Mercury Baroque, Opera in the Heights, and the University of St. Thomas, as well as for several small, private groups. Dean has also accompanied the Houston Symphony, Houston Ballet, Houston Grand Opera, Alley Theater, and J.S. Bach Choir on European performance tours.
Dean Dalton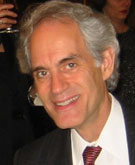 I grew up in a smallish mid-western town whose very active music and arts scene allowed me to pursue serious music and theater activities from my youth. I hold two bachelors' and a master's degree in music, have performed professionally, and for twenty years served as music director of the First Unitarian Universalist Church of Houston. In 2007 I retired from a career in classical music and cultural radio that spanned more than 35 years.
During that period I was also active in arts journalism, having written music reviews for the Washington Post as well as radio and television. I served as an arts columnist for the Washingtonian, Houston City, and Ultra magazines and have contributed to such publications as Musical America, Opera, and the Houston Symphony Magazine. For several years I lectured on music history regularly at the Smithsonian Institution and for two decades presented pre-concert talks for the Houston Symphony.
Zsófia Sztranyiczki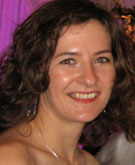 I am an ethnic Hungarian from Transylvania, growing up in Romania during the most difficult years of the Ceausescu regime. I met Dean in my hometown while serving as a translator for his Unitarian choir on tour. Shortly afterwards I had the opportunity to come to Houston to do research for my PhD thesis, thanks to the help and generosity of several members of the choir.
It was during my stay in Houston that Dean and I became better acquainted and our friendship continued following my return to Romania. I received my PhD in linguistics from Babes-Bolyai University, Cluj, Romania in 2007. I taught English as a Second Language at Rice University for several years and since 2013 I have been Executive Director of a global nonprofit organization working for women's rights and empowerment. In addition to Hungarian, Romanian and English, I speak French, Italian, Spanish, and Finnish.