Vietnam and Cambodia, with Optional Thailand SOLD OUT - WAIT LIST, October 29 to November 18, 2018
Discover the best of Vietnam and Cambodia,
from Hanoi to Angkor Wat, with authentic culinary experiences, cultural insights, and luxurious accommodations at four and five-star hotels and aboard the all-suite Dragon Legend on Halong Bay.
Connected by the majestic Mekong River, the former French colonies of Vietnam and Cambodia boast an eclectic mix of cultures, history, and architecture. Our journey, from north to south, immerses you in the colonial charm of Hanoi, the stunning scenery of Ha Long Bay, the exceptional cultural diversity of Old Town Hoi An, the rich heritage of the former imperial capital Hue, the sublime beauty of the Mekong and its river life, the urban bustle of Saigon (Ho Chi Minh City), the appalling atrocities of the Khmer Rouge regime, and the legendary mysticism of the Angkor temples.
Consult the itinerary below and plan to join us! The tour is limited to no more than 30 participants.
CONTENTS AND COSTS

16-day Vietnam and Cambodia Tour:

$4,425 per person,
sharing a double/twin room

$5,650 per person,
single occupancy

♦

2-day Bangkok extension:

$550 per person,
sharing a double/twin room

$725 per person,
single occupancy

♦ ♦ ♦

Prices include
Accommodation in these
select 4 & 5-star hotels
(click on hotel name to inspect website)

Marvellous Hotel & Spa
♦
Dragon Legend Cruise Ship
♦
La Résidence Hue Hotel & Spa
♦
La Siesta Hoi An Resort & Spa
♦
Hotel des Arts Saigon
♦
Victoria Can Tho Resort
♦
Victoria Chau Doc Resort
♦
Palace Gate Hotel Phnom Penh
♦
Riversoul Residence Siem Reap
♦
SO Sofitel Bangkok

♦♦♦

Breakfast each day
♦
Lunch or dinner every day,
both on several days
(drinks included)
♦
All transportation
by private coach
♦
Four scheduled internal flights - economy class:
Hanoi to Hue
Hoi An to Ho Chi Minh
Phnom Penh to Siem Reap
Siem Reap to Bangkok
♦
Chartered speedboat
Chau Doc to Phnom Penh
♦
Tours with expert guides
as described at the right
♦
Full-time national guide
♦
Water Puppet performance
in Hanoi
♦
A O Show in Saigon
♦
Khmer Dance Show
♦
Cyclo and Boat rides
♦
Cooking class and demonstration in Hoi An
♦
Bottled water
and cool towels
♦
Airport transfers in Hanoi and Bangkok at the time of the group arrival/departure

♦ ♦ ♦

Group Flights

We are working with a Star Alliance airline to provide flights from Houston to Hanoi and Bangkok to Houston, involving a single change of planes each way. You may choose seats in economy, premium economy, or business class. We hope to have details, including prices, by the end of December

PM departure from Houston on October 29, arriving in Hanoi midday on the 31st (remember, we're crossing the date line)

Afternoon departure from Bangkok on November 16 or 18, arriving in Houston later
the same day

Advantages of Group Air

♦ Best available prices
♦ No advance payment
required
♦ Prices locked in
♦ Group kept together, in case of delayed or cancelled outbound flights
♦ Airport transfers on arrival and departure

If you wish to participate
in group air arrangements,
please check the appropriate box on your reservation form.

You may tentatively reserve space on the tour by submitting the online form, accessed via
the button below.
We will send your official reservation form.

Your place will be established according to the date we receive that form,
together with your deposit.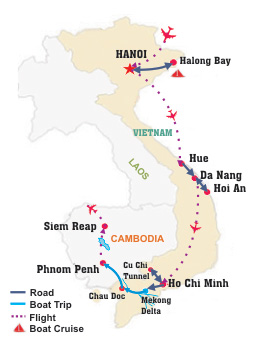 ITINERARY


Mon, Oct 29: Depart Houston – We will arrange for group flights from Houston to Hanoi, returning from Bangkok (at extra cost) with a single change of planes each way. See details in the left column.

Weds, Oct 31: Hanoi – Arrive in Hanoi and transfer to the hotel. Tonight we will gather for a welcome dinner at the hotel restaurant.

Thurs, Nov 1: Hanoi – This morning discover Hanoi, known as "Paris of the East." An authentic cyclo (three-wheeled bicycle taxi) ride will take us to the Old Quarter, a tumultuous maze of streets dating back to the 13th century. Ride along broad tree-lined boulevards in the French Quarter before visiting Ngoc Ha village, an oasis in the middle of the city. Very much a traditional community, the village is famous for the cultivation of flowers. Next is the 11th-century Temple of Literature, dedicated to Confucius. A superb example of traditional Vietnamese architecture, the temple (once a university) is an impressive complex of pavilions, courtyards, passageways, and gardens sprinkled with hanging orchids and reflecting pools.

After lunch, we make a brief stop at Ho Chi Minh Mausoleum on Ba Dinh Square and see the nearby One Pillar Pagoda, one of Vietnam's most iconic temples. Floating on the lake, the Buddhist temple looks like a lotus flower, rising from the surface of the water. We end the day at the Ethnology Museum, which has a fabulous collection related to the country's 54 ethnicities. In the evening, we will experience a traditional Water Puppet show - the unique art of Vietnamese people from the Red River Delta.

Fri, Nov 2: Halong Bay / Bai Tu Long Bay – Today we drive to the Gulf of Tonkin and embark upon the Dragon Legend: an authentic luxury junk offering spacious cabins with traditional handcrafted décor, spa, bar, sundeck area, and other entertainment options. Our destination is Bai Tu Long Bay, a magnificent and less visited part of Halong Bay, comprising three-quarters of the Halong Bay World Heritage site. Along the way, admire the fascinating limestone karsts jutting out from the emerald waters, swim or relax on the white sandy beaches, or go kayaking through the mysterious Karst Mountains. Before a sumptuous dinner, you can relax in the mineral seawater pool, re-energize in the fitness room, or enjoy the spa and massage services. We will overnight on the boat in the Tra San area.

Sat, Nov 3: Bai Tu Long Bay and Tho Ha – You can start your day with a Tai Chi demonstration on the sun-deck, or just take in the morning view of the Bay's landscape with a cup of tea or coffee while enjoying breakfast in the fresh air. Today we cruise to the Cong Do area to explore the well-hidden Thien Canh Son Cave – a fantasy world of sparkling stalactites and natural images. We enjoy a delicious lunch buffet while cruising toward the harbor. On the way back to Hanoi, we will visit Tho Ha, a village once famous for terracotta products. A local, Mr. Viet, will show us how rice paper is made and talk about his family and life. Mr. Viet was part of the NVA (Northern Vietnamese Army) that took control of Saigon in 1975. After spending time in his house, we will visit a 400-year-old pagoda, and discover the village through narrow zigzag alleys, with houses constructed from shards of old terracotta. Late in the afternoon, we fly to Hue and check into our hotel.

Sun, Nov 4: Hue – We will start our day by cyclo, crossing the famous Trang Tien Bridge to Dong Ba – Hue's renowned wholesale market. Following the river bank, we make our way to the ancient citadel of Hue, once ruled by the Nguyen Dynasty (1802 to 1945). Afterwards, we visit Dong Thien Pagoda and delight in a special vegetarian lunch prepared by the Buddhist nuns, just for us (our visit will contribute directly to the kindergarten for poor children the nuns operate). We end the tour at the Tomb of Emperor Tu Duc, Vietnam's longest reigning emperor, set among forested hills and lakes. The emperor used this site as his home away from home, so everything had to meet his specifications: a sprawling 30-acre manor with pine forests and manicured grounds, pleasure pavilions where he could write verse, as well as a lake with a small island – where he could hunt miniature animals. The rest of the day is free.

Mon, Nov 5: Hue, Kim Long, and Danang – This morning we visit seven-story Thien Mu pagoda, the symbol of Hue city, before taking a stroll in Kim Long Village. We stop at a 100-year-old house that belonged to the Mandarin of the Royal Court, and chat with the granddaughter of the mandarin, now 84. We depart for Danang through the famous Hai Van Pass, a winding mountain road with breathtaking views. In Danang, we will visit the Cham Museum, which houses the world's largest collection of artifacts from the Vietnam Kingdom of Champa (5th-15th centuries). After lunch, we drive to Hoi An, Vietnam's most picturesque town, one of the major trading ports of Southeast Asia in the 16th century.

Tues, Nov 6: Hoi An and Cam Nam – This morning, discover traditional handicrafts at Thang Loi workshop: wood carving, mat weaving, lantern making, silk worm raising, spinning and weaving, table cloth making, and embroidery. The Old Town of Hoi An, a UNESCO World Heritage site, is a living museum with Chinese temples, pagodas, wooden shops, a Japanese-designed bridge, and French colonial houses. Tan Ky, a beautiful private home preserved for 7 generations, combines Vietnamese, Japanese, and Chinese elements, providing a living testimony to the time when the three communities lived together.

Next on the agenda is a walk along Nguyen Thai Hoc Street, the heart of Old Town. After a stroll through the town market, we visit Phuc Kien Congressional Assembly Hall, the meeting place for the Chinese community originating from Fujian province in China, as well as a worship center dedicated to Thien Hau, the goddess of the sea and protector of sailors.

After lunch, we depart on an exclusive cyclo trip to Cam Nam Village, taking us along the Thu Bon River bank with a panoramic view of Hoi An. Cam Nam is relatively untouched by tourism, with very friendly and hospitable people. You can see their daily activities, even the interior of their houses. The cyclo trip will end at a small canal, where we embark on a short cruise of the Thu Bon River, witnessing life along the river, such as fishing, farming, and clamming. We return to Hoi An around sunset.

Weds, Nov 7: Hoi An – Today we will take part in an authentic cooking class at the Market Restaurant. First, we visit Hoi An's colorful and bustling market to learn about noodles, rice and grains, as well as the culinary and medicinal purposes of herbs and spices. We will also learn how to recognize and buy fresh fish, tour the many street-food counters, watch live cooking demonstrations, and taste foods. We will see Banh Mi (baguettes) being made in front of us, and then taste the bread, fresh from the oven; we'll also experience rice water noodles, rice flour crepes, dumplings, and rice paper dried on bamboo and grilled to be eaten with Hoi An chili sauce. A demonstration of Cao Lau, the town's legendary dish (noodles, pork, and local greens) is a must. A choice of traditional Vietnamese teas served with homemade Hoi An cupcakes will be offered, freshly made in front of you. We will also taste local sweets.

The cooking lesson runs about 2.5 hours - our cooking teachers first demonstrate each dish and then we prepare them ourselves; finally, sitting down to eat what we have cooked. You will receive a copy of the recipes and a Vietnamese cooking utensil to take home. Recipes include cabbage leaf parcels with shrimp mousse in broth, BBQ chicken and lime leaves, mango salad with prawns, as well as crispy Hoi An pancakes with pork, shrimp, and sprouts.

In the afternoon, we will drive to the UNESCO World Heritage site of My Son, the religious and political center of the Champa kingdom (4th to 13th centuries). The ancient complex boasts nearly 70 Hindu tower temples and the finest brick sculptures in the world.

Thurs, Nov 8: Ho Chi Minh/Saigon – This morning we fly to Ho Chi Minh City, still widely known by its former name - Saigon. Upon arrival, we visit the Reunification Palace, Notre Dame Cathedral, and the Central Post Office (designed by Gustave Eiffel). After lunch at a French restaurant, we explore Chinatown, stopping at Thien Hau Pagoda, where hundreds of local people come to burn incense for luck, prosperity, and happiness. Then we will stroll along the area where scenes from Jean-Jacques Annaud's "The Lover" (1992) were shot. We will end the day at Binh Tay, the biggest wholesale market of the city.

Fri, Nov 9: Cu Chi Tunnels – This morning we depart for Cu Chi, the famous network of tunnels used as the base for the Tet Offensive in 1968. The Cu Chi Tunnels consist of more than 155 miles of tunnels, some between 20 to 40 inches wide, just enough for a (small!) person to crawl along. This main axis system has many branches connecting to underground hideouts, shelters, and entrances to other tunnels. Back in the city in time for lunch, you are then free to explore on your own. In the evening, we will enjoy the A O show at Saigon Opera House, a sophisticated cultural event featuring traditional music, dance, and acrobatics. The beautiful choreography and stunning optical illusions tell a story of a rural Vietnamese community as it adapts to urbanization.

Sat, 10 Nov: Mekong River Delta – Today we drive to Cai Lay, a fertile town in the Mekong Delta, where we board small motorized boats for a 30-minute trip on one of the small branches of the Mekong River, witnessing the locals' lively life on the water. At Cam Son bridge, we hop on bicycles (alternative transportation is "xe loi" or pedicabs) to explore the Delta. The ride is about 4 miles along shady narrow roads curving over tiny canals and past fruit gardens and sleepy villages. Many kids will greet you with a big smile and "xin chao" (hello). During the ride, you will have a chance to see local factories, fish farms, and rice paddies, learning briefly about the local economy. We stop at a lush orchard for a chat with the owner, a war veteran. He will be very happy to walk us around his garden and offer us fresh fruits picked right from the trees. Then we take a sampan (flat-bottomed Chinese wooden boat) to a local 100-year‐old house. You can chat with the friendly residents before sitting down for lunch of Mekong traditional dishes. After bidding farewell to our hosts, we drive to Can Tho – the capital city of the Mekong Delta. Dinner tonight is at the hotel.

Sun, Nov 11: Mekong Delta and Chau Doc – We take an early morning boat trip to visit Cai Rang floating market. The boat will take us around the market twice to make sure that we will have enough opportunities to take photos. Then we head to a bustling inland market, where we can see an amazing array of Mekong Delta products. A pleasant walk by the river bank will take us to a rice processing factory, where we learn the process of making white rice from paddy rice. Then we depart for Chau Doc, arriving in time for lunch at the hotel where we will spend the night. In the afternoon, we drive a short distance to Tra Su bird sanctuary, home to more than 70 species of birds and 140 plants. A tranquil sampan ride through narrow channels and gnarled and sunken mangrove forests will be a feast for the eyes (and cameras!), offering a plethora of wading birds, water lilies, lotus flowers, and cajeput (weeping tea) trees. We return to Chau Doc around sunset.

Mon, Nov 12: Mekong Delta and Phnom Penh – After experiencing a floating fish farm on the Mekong River, we visit a traditional village of the Muslim Cham people, before taking the 4-hour speedboat ride upriver into Cambodia to the capital, Phnom Penh. Enjoy a box lunch as we travel. After checking into our hotel, the remainder of the day is at leisure.

Tues, Nov 13: Phnom Penh – This morning we visit the Royal Palace, built for King Norodom in mid-19th century, with its famous Silver Pagoda: a glittering chamber of royal treasures inlaid with 5,000 silver tiles, each weighing 1 kg. Some of the country's most cherished treasures include a life-size gold Buddha studded with 9584 diamonds, and a delicate emerald Buddha made of baccarat crystal, which gives the temple its Khmer name of Wat Preah Keo (Temple of the Emerald Buddha). The walls enclosing the pagoda are covered with ancient frescoes depicting episodes from the Reamker, Cambodia's epic poem.

Tuol Sleng Genocide Museum, located within Pol Pot's notorious S-21 Security Prison grounds, chronicles the crimes perpetrated by the Khmer Rouge (1975-1978). The displays include room after room of harrowing black-and-white photographs; virtually all men, women, and children pictured in the photos died at the killing fields of Choeung Ek. However depressing, this is a critical element in Cambodian history; more sensitive travelers may wish to forego the visit.

After lunch, we fly to Siem Reap. Upon arrival, we visit the small but excellent National Museum. The comprehensive collection of relics from the ancient Angkor Empire provides an important basis for tomorrow's exploration of the Angkor temples. In the evening, we will enjoy dinner with traditional Khmer dance show (Apsara Dance, Masked Dance, Shadow Theater, and Folk Dance).

Weds, Nov 14: Angkor Temples – The Angkor Archaeological Park encompasses over 1,000 temples - the remains of different capitals of the Khmer Empire (9th to 15th centuries).

We start at Angkor Thom, the last capital of the Empire. At its center is the enigmatic Bayon, a breathtaking temple of innumerable sculptural decorations. We can also admire the Terrace of the Elephants - an impressive terrace wall adorned with garudas (humanoid birds) in addition to the carved elephants. Then we visit Ta Prohm, the jungle temple, intentionally left partially unrestored. Massive fig and silk-cotton trees grow from the towers and corridors, offering some of the best 'tree-in-temple' photo opportunities at Angkor.

After lunch, we visit the UNESCO World Heritage site of Angkor Wat, the most magnificent and best preserved temple of the complex, and the largest religious monument in the world.

In the evening, you have the option of attending the Phare Circus show, which blends circus arts with riveting theater, dance, and music to tell uniquely Cambodian stories — historical, folk, and modern. The young performers are from challenged social and economic backgrounds and the show is run by a nonprofit organization, working with vulnerable Cambodian youth to transform their lives through art.

Thurs, Nov 15: AHA Fair Trade Village and Angkor Temples – In the morning, we visit AHA Fair Trade Village. AHA is an NGO working with artisans from the rural areas of Siem Reap Province, promoting only authentic and certified handicrafts. The market offers a wide range of locally-made products including silk, cotton, wood carving, pottery, stone carving, natural fiber, rattan, recycled material crafts, traditional costumes, leather carving, and traditional masks: an ideal spot to pick up last-minute souvenirs and gifts.

Following lunch, we travel north of Siem Reap to visit Banteay Srei, stopping by Preah Khan temple en route. Banteay Srei loosely translates to 'citadel of women,' but this term probably refers to the delicate beauty of the carvings. The walls of the temple are densely covered with some of the most beautiful, deep, and intricate carvings of any Angkorian temple. The temple's relatively small size, pink sandstone construction, and ornate design give it a fairyland ambiance.

Return to Siem Reap for our evening flight to Bangkok.

Those returning to Houston tomorrow will spend the night at a five-star hotel near the airport, allowing you to sleep in and pack in leisure before your afternoon departure.

Fri, Nov 16: Return to Houston OR Take the Bangkok Optional Extension
Join us for a two-day extension to Bangkok, the 'City of Angels' - one of Southeast Asia's most vibrant and cherished travel destinations.

Fri, Nov 16: Bangkok – This morning we will see The Grand Palace (the former royal residence of the Chakri Kings) and the most famous temples in Bangkok, including Wat Arun (Temple of Dawn); Wat Pho (featuring the largest reclining Buddha image in Bangkok); and Wat Traimit (image of a Golden Buddha - 5 ½ tons of solid gold).

After lunch, we will explore the khlongs (canals) along the Chao Phraya River. The city's many canals earned Bangkok the name "Venice of the East." Traveling by long-tailed speed boats along the canals, we will get a first-hand impression of the scenic life along Bangkok's waterways. We will experience a more traditional way of living, away from the hustle and bustle of the city center, passing by old teak houses, children throwing food to the fish, and small wooden boats selling souvenirs. The rest of the afternoon and evening is free at leisure.

Sat, Nov 17: Ayutthaya – Today we spend the day at the UNESCO World Heritage site of Ayutthaya. The huge archeological complex was the second Thai capital for over 400 years and once the largest city in Southeast Asia. The remains stand testimony to the grandeur of the Kingdom of Ayutthaya (1350-1767). Our visit will include Wat Phra Sisanphet (former royal temple with 3 bell-shaped stupas), Wat Ratchaburana (containing some of the oldest paintings in Thailand), Wat Mahathat (famous for a sandstone Buddha head entwined within the roots of a Bodhi tree), Wat Yaichaimongkon (famous for an impressively large reclining Buddha), Wat Phananchoeng (famous for the image of a huge gilded sitting Buddha), and Wai Chaiwatthanaram (Khmer-style temple). Lunch is included during the tour, and we return to Bangkok around 5 pm. Spend the remainder of the day at leisure.

Sun, Nov 18: Depart for Houston
Photos courtesy of Indochina Charm Travel, indochinacharm.com; Dragon Legend Cruise, dragonlegendcruise.com; luneproduction.com; and Bangkok Private Tours, bangkokprivatetours.com